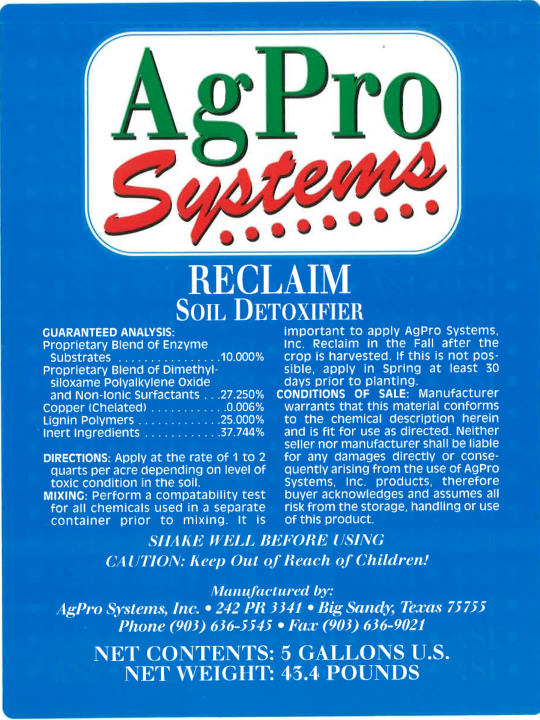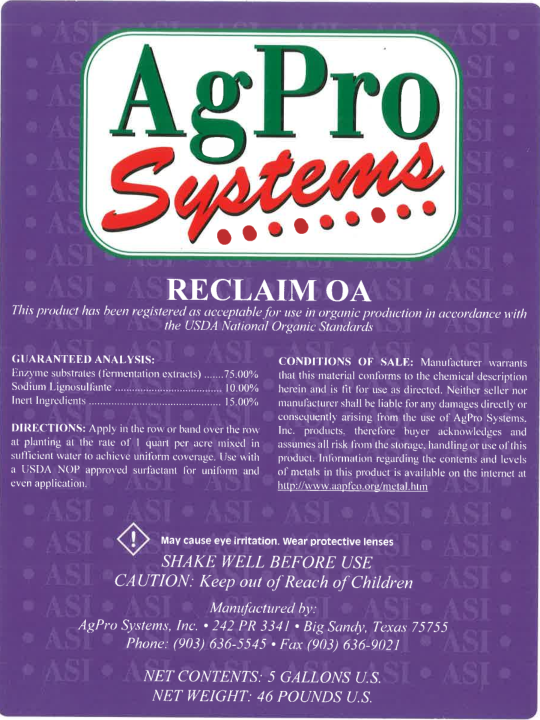 Overview
RECLAIM™ is a broad spectrum soil stimulant product designed to reduce the negative effects of herbicide carryover. Over the years, it has also proven to be useful in aiding the recovery of sodic soils.
RECLAIM™ has been used extensively for 25 years to push late season nutrient uptake in specific crops, enhancing the bulking process and increasing crop storability. RECLAIM™ has been highly effective in reducing the effects of sodium in the root zone. It has also allowed early crop rotation by degrading the herbicide residue.
RECLAIM™ has been successfully used to degrade residues and reclaim damaged fields. See Disease & Chemical Damage. Read about this remarkable product in Sugar magazine in our Research Data & Articles. If you have a problem, this may be your ticket to saving a field.
Note: RECLAIM™ can be tank mixed with various nutrients and chemicals, but can NEVER be tank mixed below 7 pH.
General Information
AgPro™ RECLAIM™ is a soil-conditioning product. It is a proprietary blend of surfactant and organic polymers, fermentation products, and chelated copper.
RECLAIM™ promotes more uniform distribution of soil moisture due to its polymer content and consequently improves moisture supply in the root zone. Promotion of better drainage in compacted or hydrophobic soils is another effect of RECLAIM™ application. Improved nutrient absorption and improved plant vigor often result.
The formulation also promotes removal and biodegradation of pesticide residues from clays and organic matter in soils where pesticide residue persistence has been a problem.
Levels of alkaline salts of sodium and magnesium have been shown to decrease with RECLAIM™ applications, especially when also spreading gypsum or sulfur and when drainage has been facilitated by ditching or drainage tile.
Applications to alkaline sugar beet and potato soils have resulted in sizeable yield increases when applied at 32 oz/A pre-plant, incorporated plus 16-32 oz/A banded, pre-emerge in beets and when applied at 16 oz/A in-furrow plus 32 oz/A banded 21 days later in potatoes.
Options are simply limited when sub-lethal carryover chemical damage appears in a field. RECLAIM™ can be a very powerful cost effective tool that can be used to deal with this problem. RECLAIM™ can be applied foliar or through a pivot. Results vary according to the soil nutrient balance, soil function, and chemical strength. We have over 14 years of successful experience fixing this challenging problem, but early timing or preplant prevention spray can be critical.
Sodium Issues: Stimulate beneficial bacteria, fungi and micro organisms which will unlock nutrients that have been tied up in your soil. RECLAIM™ is a soil detoxifier that will dramatically remediate sodium levels, and make potassium (90%) more available and phosphorus (48%) more available. Increase nitrogen efficiency by up to 1/3. Increase biological activity, help break up compacted layers, increase the development of the plant above and below the surface. Do all this and much more with RECLAIM™!
In potato and onion production, RECLAIM™ aids in the bulking process in two ways.
1. At this late stage in the plant's growth, the root system is starting to diminish. RECLAIM™ stimulates root growth which is vital for nutrient uptake.
2. RECLAIM™ stimulates microorganisms that are directly responsible for phosphorus and potassium release in the soil. More available nutrients enter the plant through a better root system.
Guaranteed Analysis
Proprietary Blend of Enzyme Substrates
10.000%
Proprietary Blend of Dimethylsiloxame Polyalkylene Oxide and           non-ionic surfactants
27.250%
Copper (Cu) Chelated
0.006%
Lignin Polymers
25.000%
Inert Ingredients
37.744%
*Product Approved for Use on Organic Crops
The organically modified version of RECLAIM™ complies with the standards of Organic Certifiers and contains only ingredients approved under the USDA National Organic Program. Please specify 'organic' if you wish the organic formulation.
Directions for Use
Shake well and mix in enough water to distribute evenly. May be tank mixed with most liquid fertilizers and pesticides. Use in conjunction with a good soil test and soil fertility program. Always conduct a compatibility test prior to mixing any chemicals.
Application Information
The following applications are recommended for:
Agricultural Field Crops:

32 to 64 fl. oz. per acre

Sports Fields:

2 to 4 fl. oz. per 1,000 square feet

Golf Courses:

Greens and Tees: 1 to 4 fl. oz. per 1,000 square feet
Fairways: 21 to 64 fl. oz. per acre

Turf:

1 to 4 fluid ounces per 1,000 square feet
Mixing
Prior to application, all spray/mixing and application equipment must be cleaned. Carefully observe all cleaning directions on product label.
To prevent or minimize foaming, fill tank 3/4 full of water.
Add pesticides and/or fertilizers as directed by label or in following order.
A. Fertilizer and micronutrients
B. Dry flowables and dispersible granules
C. Flowables
D. Water soluble pesticides
E. Emulsifiable concentrates
Continue agitation
Add Reclaim and mix with normal agitation.
Continue filling tank maintaining agitation.
For optimum results spray mixtures containing phLAME should be applied within 36 hours
Storage and Disposal
Store in original container only. Keep container tightly closed. Do not allow water to be introduced into contents of container. Do not contaminate water sources by runoff from cleaning of equipment, disposal of equipment wash water or spray waste. Do not store near heat or open flame. Container Disposal: Triple rinse (or equivalent) container. Offer for recycling or puncture and dispose of according to state and local authorities. If burned, stay out of smoke.
What to Do in Case of Contact
IF SWALLOWED:  Give a large amount of water to drink. DO NOT induce vomiting or give anything by mouth to an unconscious person.
IF IN EYES:  Immediately flush with clean water for 15 minutes. Consult a physician if symptoms persist.
IF ON SKIN:  Remove contaminated clothing and wash with soap and water. If contact is made with the spray solution containing pesticides, follow the "Statement of Practical Treatment" on the pesticide label. Consult a physician if irritation persists.
Caution
Avoid contact with skin, eyes, or clothing. Do not apply in such a manner as to directly or through drift expose workers or other people. If mixed with pesticides follow precautionary statements on the accompanying pesticide label.
KEEP OUT OF REACH OF CHILDREN
SHAKE WELL BEFORE EACH USE
KEEP FROM FREEZING
Notice
Disclaimer: The information contained herein is furnished without warranty of any kind. Users should consider this data only as a supplement to other information gathered by them and must make independent determinations of suitability and completeness of information from all sources to assure proper use and disposal of these materials and the safety and health of employees and customers and the protection of the environment.