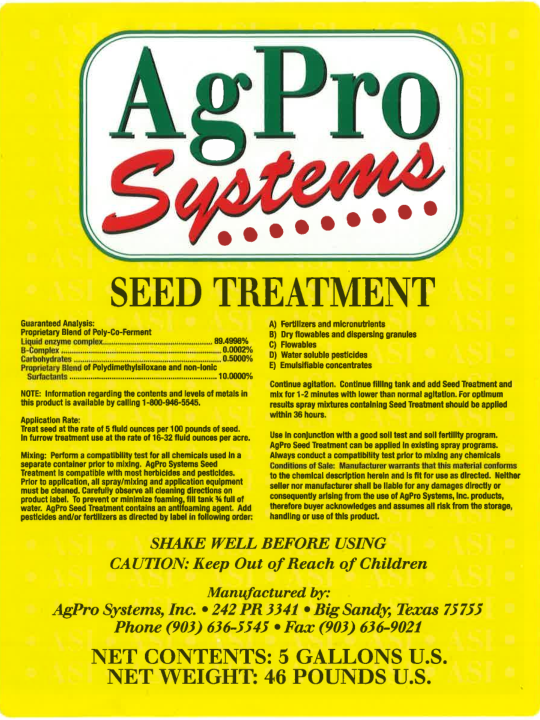 Overview
SEED TREATMENT OA™ contains nutrients and compounds that enhances seed germination and seedling vigor. Deeper, more extensive rooting insures more consistent plant stands, increased nutrient uptake and healthier, more vigorous seedlings.
General Information
AgPro™ SEED TREATMENT OA™ is a product formulated for soil and seed interaction to stimulate faster germination, healthier seedling vigor and rapid development. It is a proprietary blend of fermentation extracts, organic acids, plant extracts and surfactants.
The ingredients enhance soil activity and allow more rapid seed germination. Stimulation of microbial activity creates an environment for the greatest possible yield potential. Roots develop more bio-mass enabling the plant to gather nutrients more efficiently and in greater quantities. Another obvious effect is the plant's ability to withstand drought stress.
The preferred treatment is in the row at planting so we can affect the environments around the seed as well as the seed itself to set the yield potential as high as possible. Strong healthy plants are less susceptible to insects and disease.
Guaranteed Analysis
Proprietary Blend of poly-co-ferment liquid enzyme complexes
60.00%
Inert ingredients
40.00%
Directions for Use
Shake well and mix in enough water to distribute evenly. Can be tank mixed with most liquid fertilizers and pesticides. Use in conjunction with a good soil test and soil fertility program. Always conduct a compatibility test prior to mixing any chemicals.
Application Information
The following applications are recommended for:
In row at planting:

May be applied at the rate of 16-32 fl. oz. per acre in the planting water or starter fertilizer

For Seeds:

Mist on seeds (DO NOT SOAK) at the rate of 5 fl. oz. per 100 lbs. of seed. May be diluted in sufficient water for uniform coverage
Mixing
Prior to application, all spray/mixing and application equipment must be cleaned. Carefully observe all cleaning directions on product label.
To prevent or minimize foaming, fill tank 3/4 full of water.
Add pesticides and/or fertilizers as directed by label or in following order.
A. Fertilizer and micronutrients
B. Dry flowables and dispersible granules
C. Flowables
D. Water soluble pesticides
E. Emulsifiable concentrates
Continue agitation
Add SEED TREATMENT OA™ and mix with normal agitation.
Continue filling tank maintaining agitation.
For optimum results spray mixtures containing pHlame should be applied within 36 hours
Storage and Disposal
Store in original container only. Keep container tightly closed. Do not allow water to be introduced into contents of container. Do not contaminate water sources by runoff from cleaning of equipment, disposal of equipment wash water or spray waste. Do not store near heat or open flame. Container Disposal: Triple rinse (or equivalent) container. Offer for recycling or puncture and dispose of according to state and local authorities. If burned, stay out of smoke.
What to Do in Case of Contact
IF SWALLOWED: Give a large amount of water to drink. DO NOT induce vomiting or give anything by mouth to an unconscious person.
IF IN EYES: Immediately flush with clean water for 15 minutes. Consult a physician if symptoms persist.
IF ON SKIN: Remove contaminated clothing and wash with soap and water. If contact is made with the spray solution containing pesticides, follow the "Statement of Practical Treatment" on the pesticide label. Consult a physician if irritation persists.
Caution
Avoid contact with skin, eyes, or clothing. Do not apply in such a manner as to directly or through drift expose workers or other people. If mixed with pesticides follow precautionary statements on the accompanying pesticide label.
KEEP OUT OF REACH OF CHILDREN
SHAKE WELL BEFORE EACH USE
KEEP FROM FREEZING
Notice
Disclaimer: The information contained herein is furnished without warranty of any kind. Users should consider this data only as a supplement to other information gathered by them and must make independent determinations of suitability and completeness of information from all sources to assure proper use and disposal of these materials and the safety and health of employees and customers and the protection of the environment.